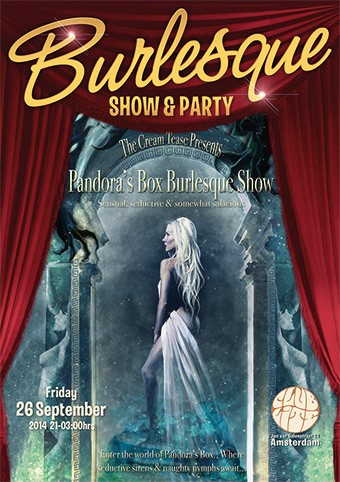 26 September 2014

MIDNITE BURLESQUE
Show & party. Mix of naughtiness, bawdiness, film-noir Glamour meets Rock and Roll!
Get ready for a FUN-tastic, glamorous and sexy (with a big wink) night out. Enjoy the fabulous show and groove to the Razzin'-Rat-Pack-retro sounds played by the Retrolicious deejays.
Organisor Madame Risquée imported a complete show this time: 'Pandora's box' from Great Britain. Eight performers will show their best and original acts.
Pandora's box is an innovative burlesqueshow produced and directed by The Cream Tease. It's based on the epic stories of Greek Mythology. The show is an enchanting display of high class entertainment incorporating contemporary dance, ballet, striptease and more. Pandora's box is an erotic, sensual display of skin and skill.
The performers will take you on a journey that's playful, provocative and highly enthralling, leaving you spellbound....
We'd love you to DRESS UP! ...fancy, in costume, chique, suave, funny, funky, sexy, freaky, rock and roll, glamorous. Themes to consider: Golden Era Movie Star, Tropical, Vintage; Roaring 20's, Flashy 40's, Flirty 50's, Sexy 60's...even Risquée Renaissance! ... silent-movie, diva, glam, pin-up, masked, Hollywood ... Simply enjoy dressing up.
Dancing, Fun, Show, Bubbles & Entertainment!
Also:
-Daisy Lee burlesque accesories
-Best dressed competition
-Candy Girls

SITE
MIDNITE BURLESQUE
WHEN
26 September 2014 - 21:00-03:00
(Showtime at 23:00Hrs)
WHERE
Club Lite Jan van Galenstraat 24
Amsterdam Only 1 KM from Jordaan
Bus 18 - Tram 12 -Tram 13
COSTS
€ 15,- BUY YOUR TICKETS HERE
or at the door

PERFORMERS
Burlesque & Variety Stars
The Trinity Belles;
Lady Catalina
Sophia Bonbelle
Eivissa Rose
Vanessa Vavoom
The divine miss Em
Emerald Winnie Windsor
Plus actor 'Mr. Zeus'

DEEJAYS
Dionysius (Retrolicious)
Charley Rhythm (Amsterdam Burlesque)





ORGANISED BY Madame Risquée