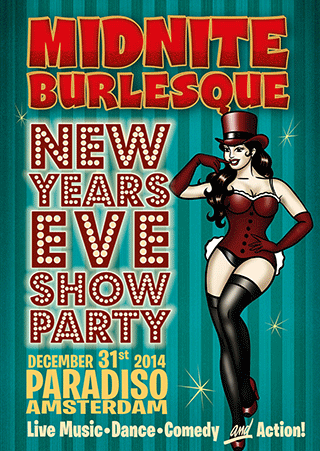 From the same organisor!
31 December 2014

MIDNITE BURLESQUE -SOLD OUT!
Show & party. Mix of naughtiness, bawdiness, film-noir Glamour meets Rock and Roll!
Get ready for a FUN-tastic, glamorous and sexy (with a big wink) night out.

A spicy high-class revue with 'sin'-sational shows awaits you! An international cast of entertainers will bring their best, funniest, sexiest, most musical AND craziest acts. Not too much show, only the best of the best!
Live Band The Busquito's play a catchy mix of virtuoso swing music and Vaudeville-like entertainment. A lot of audience particiaption is to be expected! and the DJs will spin Rock and Roll, Big Band sounds, ElectroSwing, Soul and more 'Burlesque Beats' for you to enjoy.
We'd love you to DRESS UP! ...fancy, in costume, chique, suave, funny, funky, sexy, freaky, rock and roll, glamorous. Themes to consider: Golden Era Movie Star, Tropical, Vintage; Roaring 20's, Flashy 40's, Flirty 50's, Sexy 60's...even Risquée Renaissance! ... silent-movie, diva, glam, pin-up, masked, Hollywood ... Simply enjoy dressing up.
Dancing, Fun, Show, Bubbles & Entertainment!
NOTE: beware of fakeFB accounts selling tickets! SEE OUR FB page for best tip on how still to get a valid ticket!
SITE MIDNITE BURLESQUE

WHEN
Dec. 31st 2014 22:00 - LATE!

WHERE
Paradiso (upstairs!)
Weteringschans 6 Amsterdam
SOLD OUT - UITVERKOCHT
PERFORMERS
live band:Busquitos
performances by
Victoria Romanova (Russia)
Raoul...lala
Deena Ray
Miss Mia (Australia)
and more to be announced!
Hosted by comedienne Coco Le Miel
DEEJAYS
Dionysius
Charley's Rhythm Revue




ORGANISED BY Madame Risquée