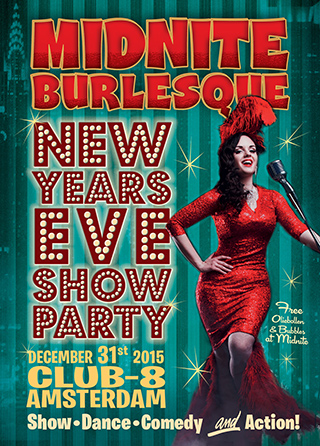 31 December 2015

MIDNITE BURLESQUE
Show & party. Mix of naughtiness, bawdiness, film-noir Glamour meets Rock and Roll!
Get ready for a FUN-tastic, glamorous and sexy (with a big wink) night out.

A spicy high-class revue with 'sin'-sational shows awaits you! An international cast of entertainers will bring their best, funniest, sexiest, most musical AND craziest acts. Not too much show, only the best of the best!
We'd love you to DRESS UP! ...fancy, in costume, chique, suave, funny, funky, sexy, freaky, rock and roll, glamorous. Themes to consider: Golden Era Movie Star, Tropical, Vintage; Roaring 20's, Flashy 40's, Flirty 50's, Sexy 60's...even Risquée Renaissance! ... silent-movie, diva, glam, pin-up, masked, Hollywood ... Simply enjoy dressing up.
Dancing, Fun, Show, Bubbles & Entertainment!
==========================================
-Club-8 is just off the tourist maps but actually only 1 Km from 'De Jordaan' (and 1 mile from Anne Frank's house).
-The party room is at the 3rd floor, take the stairs all the way up. Elevator for disabled persons.
One floor down is the poolhall and café where you also can eat something.
You're welcome there All night. see www.Club-8.nl
-There is often parking space in front and side of the building. several public transport possibilities around too.
- There are mostly standing places at Club 8, some seats and tables at the sides. The higher ones allow view to stage but you can't reserve them. Be early or lucky!
- Dancefloor open from the beginning. Big Smoking room in the back.
- Dressing up is not a must to get in, but you will be one of the few if you don't (tips HERE)
NYE PAGE: MIDNITE BURLESQUE

WHEN
Dec. 31st 2015 21:00 - 05:00

WHERE
Club 8 (3rd floor)
Admiraal de Ruijterweg 56B Amsterdam
COSTS: €35,- TICKETS HERE
PERFORMERS
Undine Laverve (Malta)
Alice Shpiller (Moscow)
Miss Behave (BE)
Deena Ray (NL)
Raoul...lala (FR)
MiuMiu Lunatique (FIN)
Rasmus Wurm (Swedish Magician)
Evy Maroon (Swe)
Hosted by Lady Marmalade (USA)
DEEJAYS
Dionysius
Charley's Rhythm Revue



Free Burlesque workshop at 21:15
Showtime at 23:00 - 3 show blocks total


ORGANISED BY Madame Risquée