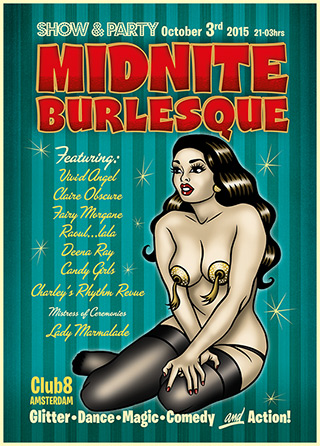 3 October 2015

MIDNITE BURLESQUE
Show & party. Mix of naughtiness, bawdiness, film-noir Glamour meets Rock and Roll!
Get ready for a FUN-tastic, glamorous and sexy (with a big wink) night out.

A spicy high-class revue with 'sin'-sational shows awaits you! An international cast of entertainers will bring their best, funniest, sexiest, most musical AND craziest acts.
The DJ's will spin Rock and Roll, Big Band sounds, ElectroSwing and more 'Burlesque Beats' for you to enjoy. The dancefloor will be open from the beginning of the night.
We'd love you to DRESS UP! ...fancy, in costume, chique, suave, funny, funky, sexy, freaky, rock and roll, glamorous. Themes to consider: Golden Era Movie Star, Tropical, Vintage; Roaring 20's, Flashy 40's, Flirty 50's, Sexy 60's...even Risquée Renaissance! ... silent-movie, diva, glam, pin-up, masked, Hollywood ... Simply enjoy dressing up.
Dancing, Fun, Show, Bubbles & Entertainment!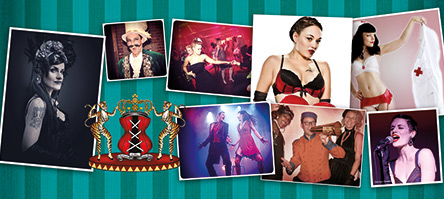 SITE MIDNITE BURLESQUE

WHEN
Oct. 3rd 2015 21:00 - 03:00

WHERE
Club 8 (upstairs!)
Admiraal de Ruijterweg 56B Amsterdam
PERFORMERS
Lady Marmalade
Fairy Morgane
Raoul..lala
Deena Ray
Vivid Angel
Claire Obscure
Candy Girls
COSTS: €17,50 HERE and at the door


ORGANISED BY Madame Risquée